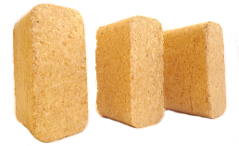 Wood briquettes make great fuel for stoves, log boilers, chimeneas and fireplaces. They are more economical than kiln-dried logs and produce a clean and long burn. Pellets made from sunflower husk or straw are suitable for industrial and farm boilers and combined heat and power plants and are more economical than wood pellets.
---
Looking for an expert supplier to meet your wood fuel trade requirements? Look no further.
Wood fuel retailers, garden centres, restaurant and hotel owners, owners and operators of biomass and solid fuel boilers and combined heat and power plants will benefit from top quality, competitively priced wood fuel products.
Whether you require RUF, round (Nestro) or Pini Kay wood briquettes, firewood logs, sunflower husk pellets and briquettes and straw pellets we deliver outstanding quality and value for money. In the UK, we deliver single pallets to full loads nationwide from strategically placed warehouses in Durham, Bathgate (Scotland), and county Antrim (Northern Ireland). Customers across Europe who require full container loads are served directly from ports or by road transport. We can offer especially favourable pricing on full container loads and full vessel loads (from approx. 3 000 tonnes). Customers can benefit from our ability to source all grades of residential and industrial wood pellets, straw pellets and sunflower husk pellets, including  deliveries of 20 – 5 000 tonnes at very favourable prices.
For a free, no obligation, on site assesment of your technical and commercial biomass fuel requirements, call 020 3002 0359 or email sales@flextechnologies.co.uk.
Retail customers in the UK: please visit our retail website for a selection of high quality, competitively priced wood fuels.
Which product would best meet your requirements? Please follow the links for more details.
---
---