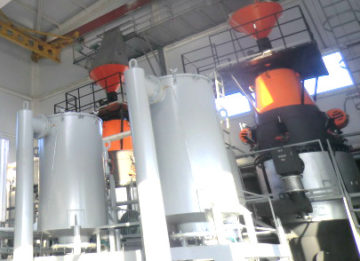 For larger projects from approx. 1.5MWe upwards where maximising electrical efficiency and minimising fuel consumption is more important than minimising capital costs, a biomass fired steam boiler coupled with a high efficiency steam turbine can be the right solution.
Such systems, while requiring a higher capital cost compared to biomass gasifier based CHP plants, can run largely unattended (if fuel feeding is automated). They tend to have a higher capital cost per kW than biomass gasifiers but lower staff costs, high efficiency and high degree of automation.
---
Flex Technologies can advise on the selection of the best plant configuration, depending on the customer's capital constraints, fuel type, fuel and staff cost, and other relevant circumstances. Flex Technologies can offer customised biomass steam boiler and turbine systems using boilers that burn any of the following fuels:
Wood chips and other waste wood
Straw
Olive pomace and pits
Corn stalk and cob
Cotton stalk and cotton gin waste
Any other biomass fuel that can be burned in a boiler
Please contact us for more information on sales@flextechnologies.co.uk or by telephone at +44 (0) 20 3002 0359.
---