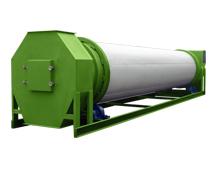 Grinding plants are able to grind wood chips and other coarse biomass materials up to 45% moisture with specifications as shown in the table below.
---
Drying plant consists of the following equipment:
Fine biomass screw conveyor which feeds the material into dryer;
Hot air generator unit with cyclonic burner which burns efficiently a part of the same fine biomass blown from fuel bin into combustion chamber;
1-pass or 3-pass rotary dryer. Dried material is sucked in by a pneumatic conveying system and transported to cyclone to separate the material from the conveying air;
The dried material is discharged from cyclone through a rotary air lock into one or two silo bins from which the material is fed into briquetting presses.
One- / Three-pass Rotary Dryer Specifications
| | | | | |
| --- | --- | --- | --- | --- |
| Capacity (ton/h) | Evaporation, kg/h | Fuel consumption a), kg/h | Diameter (mm) | Length, mm |
| 0.5 | 290 | 84 | 800/- | 8,000/- |
| 1 | 582 | 167 | 1,200/1,700 | 12,000/8,000 |
| 2 | 1,164 | 333 | 1,600/2,450 | 11,500/8,000 |
| 3 | 1,746 | 500 | 1,600/2,650 | 15,000/9,100 |
| 4 | 2,328 | 665 | 2,000/2,850 | 16,000/9,000 |
| 5 | 2,910 | 920 | 2,000/3,700 | 20,000/10,000 |
a ) For wood sawdust with LHV = 2,635 kCal/kg
---