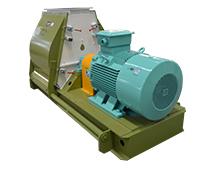 Grinding plants are able to grind wood chips and other coarse biomass materials up to 45% moisture with specifications as shown in the table below.
---
Grinding plant consists of the following equipment:
Coarse biomass feeding belt conveyor;
Hammer mill with grinding chamber in which the biomass is ground. Under the beating of high speed rotating hammers and the rubbing effect of the screen, material is ground gradually, and discharged from the discharging port through screen holes;
Pneumatic conveying system which sucks in and transport ground material to cyclone where the material is separated from the conveying air. The material is discharged from cyclone through a rotary air lock;
Pulse filter which traps fine particles which are not collected in the cyclone;
Ground biomass discharge via a belt conveyor.
Grinding Plant Specification
| | | | | |
| --- | --- | --- | --- | --- |
| Capacity, t/h | Motor, kW | Rotor Ø, mm | Chamber width, mm | No. of hammers |
| 0.8 – 1 | 22 / 39 | 560 | 360 | 20 |
| 1 – 1.5 | 30 / 37 | 560 | 400 | 24 |
| 1.5 – 2.5 | 45 / 55 | 600 | 450 | 48 |
| 2.5 – 3.5 | 75 / 90 | 600 | 600 | 64 |
| 4 – 5 | 90 / 110 | 680 | 800 | 88 |
| 8 – 10 | 132 / 160 | 680 | 1,200 | 120 |
---