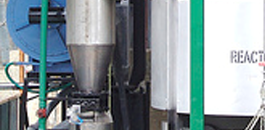 Suitable fuel includes loose agricultural waste such as rice, sunflower, buckwheat, soy bean hulls and husk, bagasse, olive and grape pomace, wood/straw pellets and similar.
---
FBP series power system

FBP-120

FBP-160

FBP-250

Rated power, kWe 

ᵃ⁾

100-120
140-160
220-250
Base engine model
Cummins GTA855G
Huachai (Deutz) BF6M1015
Cummins GTA1150G
Huachai (Deutz) BF6M1015
Cummins GTA1710G
2 x Huachai (Deutz) BF6M1015
FBG gasifier model
FBG-200
FBG-250
FBG-400
Fuel
Loose and pelleted biomass with moisture < 12% & ash fusion temperature > 1,050°C
– Consumption, kg/h, max.
120-180
180-250
300-400
– Fuel charge
Continuous during gasifier operation
Typical gas composition
CO = 20 ± 2% CO2 = 13 ± 1% N2 – 52 ± 2% H2 = 10 ± 2% CH4 = max 4%
Gas temperature
300 – 500°С at outlet from gasifier, < 30°С after gas cooling and cleaning
Gas LHV
1,050 – 1,400 Kcal/Nm3 depending on fuel type
Ash/char removal
Dry, continuous
a ) Rated power depends on biomass fuel properties and resulting gas composition
CHP systems quoted upon request.
Cummins GTA855G, GTA1150G and GTA-1710G engines shown above do not come with CE marking as standard, but we are working to make them available to customers in the EU and Turkey. If you are interested in using one of these systems in this region, please let us know. All other engines and all gasifiers are CE marked.
Additional configurations are available on request. We also supply fuel preparation and other ancillary equipment. Please get in touch with your requirements!
All trademarks are property of their respective owners.
---