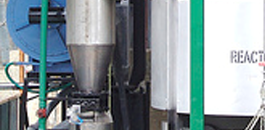 Suitable fuel includes wood chips/off-cuts, corn cobs, cotton stalks, vineyard pruning, almond/palm oil/coconut shells as well as wood or MDF dust/sawdust briquettes, sunflower husk briquettes, and similar. Tailored solutions are available for gasifying straw.
---
WBP series power system

WBP-320

WBP-350

WBP-450

WBP-550

Rated power, kWe a)

280-320
320-350
400-450
480-550
Base engine models
Guascor SFGLD240
2 x Huachai (Deutz) BF8M1015
Weichai WP36D650E201
Guascor SFGLD360
Guascor SFGLD480
2 x Cummins GTA1710G
WBG gasifier model
WBG-500
WBG-600
WBG-700
WBG-800
Fuel
Low ash biomass with moisture < 20% & ash fusion temperature > 1,150°C
– Consumption, kg/h, max.
280-380
330-450
400-540
480-660
– Fuel charge
Batch during gasifier operation
Typical gas composition
CO = 19 ± 3% CO2 = 10 ± 3% N2 – 50% H2 = 18 ± 2% CH4 = up to 3%
Gas temperature
300 – 500°С at outlet from gasifier, < 30°С after gas cooling and cleaning
Gas LHV
1,100 – 1,300 Kcal/Nm3 depending on fuel type
Ash/char removal
Dry, continuous
a ) Rated power depends on biomass fuel properties and resulting gas composition
CHP systems quoted upon request.
Cummins GTA-1710G engines shown above do not come with CE marking as standard, but will be certified before supply to an EU based customer, as required by law. All other engines and all gasifiers are CE marked.
Additional configurations are available on request. We also supply fuel preparation and other ancillary equipment. Please get in touch with your requirements!
All trademarks are property of their respective owners.
---